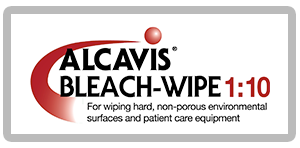 ALCAVIS® BLEACH-WIPE 1:10
Blow the lid off canister wipes.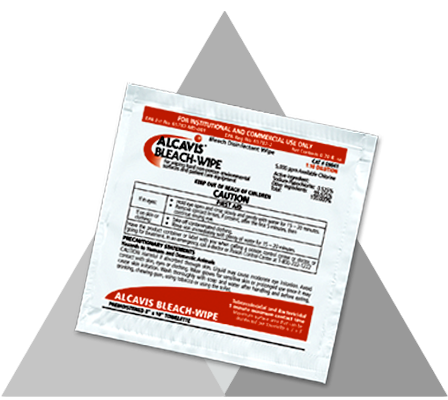 Alcavis 1:10 Bleach Wipes are included on the EPA's "N" List of disinfectants approved for use against SARS-CoV-2, and are often used for C.diff disinfection.
Canister wipes lose efficacy when their lids are left open.1 When moved between patient rooms, canisters can carry environmental contamination, risking infection spread.2
Alcavis® single-use wipes give you effective bleach disinfection where you need it, at the right dilution.
Ideal for blood and body fluid spills

Eradicates C. difficile, S. aureus, S. enterica, P. aeruginosa, TB & HIV, MRSA and VRE, Norovirus

Fast-acting kill power against resistant pathogens

Stable: 12-month shelf life

Consistent and accurate concentration of bleach every time

CDC & OSHA compliant
Portable | Accessible | Convenient
We can no longer accept Alcavis 1:10 Bleach Wipe orders by the box. The minimum order quantity is by the case (8 boxes per case).
1. Rutala et al. Monitoring and improving the effectiveness of surface cleaning and disinfection. Amer. J. Inf. Ctrl. 2016
2. Alhmidi & Donskey, et al. Contaminated Portable Equipment Is a Potential Vector for Dissemination of Pathogens in the Intensive Care Unit. Inf. Ctrl & Hosp. Epidem. 2017.