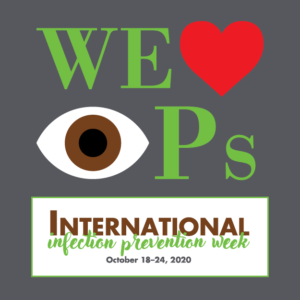 On October 18th, a week devoted to celebrating the work of infection preventionists (IPs) begins worldwide. In these difficult times, IPs have been guiding the frontline healthcare workers — and often suiting up right alongside them — to slow the spread of COVID-19. IPs in healthcare facilities the world over not only work tirelessly (although they are all quite tired, to be honest) to protect patients and also the healthcare workers who are risking exposure to COVID-19 every time they care for patients with the virus. They help guide and implement policies and preparation that ensure hand hygiene, PPE supply, and patient management to reduce the spread of all infections.
Along with those frontline workers, they are often making sacrifices many of us don't think about. As Connie Steed, the president of the Association for Professionals in Infection Control (APIC) said recently, "I miss hugging my children and grandchildren. I want to go out for dinner with my husband at our favorite restaurant. But I am energized by our shared work and the comradery I feel every day."
IPs are stepping up everywhere to assist schools, public health groups, and educators with interviews, trainings, and resouces like COVID SMART, an interactive safety training program for workplaces that teaches and tests knowledge of COVID-19 and basic infection prevention measures through short online modules and animated videos.
We at Angelini Pharma have a bit of a hero crush on our IPs. Each day, they face difficult odds, tackle terrible foes, and conquer diseases that aren't limited to COVID-19. And despite the challenges, they do it again each next day. So for IP week 2020 and for every other week of the year, we honor the IPs globally. Thank you for the hard work you do to keep us all safe.
Sincerely,
The Angelini Pharma Family